Prof. Jorge L Soberón
---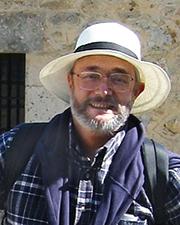 University Distinguished Professor
Natural Sciences and Mathematics
Ecology & Evolutionary Biology
KU Biodiversity Institute
Contact Info
University of Kansas
1345 Jayhawk Boulevard
Lawrence, KS 66045-7561
---
Biography
—
Dr. Jorge Soberón is mainly interested in documenting and understanding large-scale spatial patterns in the biodiversity of terrestrial species.
Research
—
Research Interests In my lab we make extensive use of databases of specimens from scientific collections, or from observations. For the descriptive aspects of the work I use Geographical Information Systems software. For the predictive and analytical questions, I use mathematical models, as well as software specifically designed for niche modeling. I am also very interested in the political and institutional aspects of biodiversity governance. I love working in collaboration and I have published work in collaboration with colleagues in several laboratories in Mexico and the United States. Current Research Presently I am working on how to "integrate" alternative views of biodiversity like distributional data, phylogenetic data, data about interactions, and others. This is done in collaboration with computer scientists and colleagues in other universities. Results of this research can be applied to the more accurate planning of conservation. I am also very interested in how different niche factors affect species distributions at contrasting scales. I am very intrigued by the details of how, at changing scales, different factors cease to act as variables in equations and become parameters in new equations. This is explored by mathematical modeling, by simulation, and by analyzing a very extensive field database compiled by one of the students in my group. The students working in my group focus on questions related to factors affecting distributions of species at different scales, the effects of dispersal and migration on the shapes of the distributions, and the energetic and life-history correlates of fundamental niches. There is also a postdoctoral associate working on geometrical morphometrics of butterflies. Generally speaking, in my group we try to explore conceptual and theoretical questions, using as much available data as possible. It may be called data-constrained theorizing.
Research interests:
Biodiversity patterns, biodiversity policy, niche theory, conservation biology
Teaching
—
I teach mostly topics related to quantitative and mathematical ecology. Multivariate Methods, Population Ecology (theory), mathematical modeling. My philosophy of teaching is simple: I like students to understand the fundamentals and to be able to do things. Therefore I emphasize a "workshop" mode of teaching, with everybody in a computer actually doing things with data. On the other hand, I like telling stories related to the subject topic, and my point of view about things.
Teaching interests:
Focus on the fundamentals
Emphasize doing
Provide historical context
Enjoy the subject
Be rigorous with methods, language and concepts
Selected Presentations
—
Soberon, J. L. (6/18/2017 - 6/20/2017). Recent and novel examples (mostly in Mexico) of how digitized museum data is used in policy and practical problems.
Director's Summit on Digital Data, SPNHC
. Denver Museum of Natural Sciences, Denver, CO.
http://www.spnhc2017denver.org/program/
Soberon, J. L. (3/29/2017 - 3/31/2017). Developing Biodiversity Observation Networks in Latin America with Essential Biodiversity Variables. Center for Latin American Studies, Stanford University
Soberon, J. L. (12/31/2017). Algunas Ideas Basicas Para la Teoría del Nicho Ecológico. VI Congreso Nacional de Ecologia, Mexico
Soberon, J. (12/31/2017). De la burocracia a la teoría: datos, software y ecuaciones de las áreas de distribución. V Congreso Nacional de Ecologia, Mexico. Leon, GTO., Mexico
Awards & Honors
—
2016 Highly-cited researcher.
Thompson-Reuters
2016
2015 Highly-cited researcher.
Thompson-Reuters
2015
Distinguished Mexican Living Abroad
The Mexican Ministry of Foreign Affairs
2018 - Present
Member of the American Academy of Arts and Sciences
American Academy of Arts and Sciences
2018 - Present
Named University Distinguished Professor
Board of Regents, University of Kansas
2014 - Present
Service
—
Mostly I serve both in the Biodiversity Institute and the EEB committees, and in a large number of international boards and panels.