Paul V. Stock
---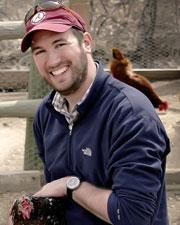 Social and Behavioral Sciences
Sociology
Environmental Studies Program
Contact Info
University of Kansas
1415 Jayhawk Blvd
Lawrence, KS 66045-7556
---
Education
—
Ph.D. in Sociology, Colorado State University, 2009, Fort Collins, CO
M.A. in Sociology, Illinois State University, 2004, Normal, IL
B.A. in Sociology and Anthropology, Truman State University, 2001, Kirksville, MO
Research
—
Paul is an environmental and rural sociologist with a primary interest in family farmers. Specifically, how do farmers respond to changes in the international economy? This work is also related to interests in environmental ethics, justice and agriculture, agricultural social movements, and the culture and symbolism of farming as it relates to policy.
Research interests:
environment
food
agriculture
collaboration
farmers
care
ethics
morality
Teaching
—
Teaching interests:
environment
food
agriculture
rural sociology
Selected Publications
—
Darby, D. Bryon, Tim Hossler, and Paul V Stock. 2019. New Farmers 2014/2018. Books. Lawrence, KS: P & T Committee.
Burton, Rob, Jeremie Forney, Paul V Stock, and Lee-Ann Sutherland. Published. The Good Farmer: Culture and Identity in Food and Agriculture. Books. London, UK: Routledge/Earthscan.
Exhibitions
—
New Farmers. The Scholarship of Social Engagement Symposium-Chalmers Hall, University of Kansas School of Architecture. Lawrence. KS. USA. 2016
New Farmers. University of Neuchâtel, Museum of Ethnography. Neuchâtel. Switzerland. 2016
New Farmers. Yale University, School of Forestry and Environmental Studies. New Haven. CT. USA. 2016
New Farmers. Harvard University, School of Divinity, Spirit of Sustainable Agriculture Conference. Cambridge. MA. USA. 2016
New Farmers. The Commons, KU. 2015
Awards & Honors
—
A 50 Best Book Cover in 2019 50 Books | 50 Covers Competition
American Institute for Graphic Artists
2019
A 50 Best Book in 2019 50 Books | 50 Covers Competition
American Institute for Graphic Artists
2019